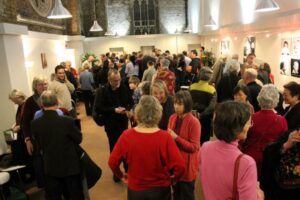 WELCOME
At the heart of everything we offer at The Meditatio Centre is the practice of meditation. This way of contemplative silence as we teach it is rooted in the teaching of Jesus on prayer and by the tradition that put it into practice. In meditation we learn to live from the silent dynamic centre which unites all humanity, a centre in which we are freed to engage with life itself, in all its aspects and in all its fullness.
The Meditatio Centre is part of The World Community for Christian Meditation which was formed in 1991. It was inspired by the vision of John Main, a Benedictine monk, to teach meditation as a way to help restore the contemplative dimension of life. Its spiritual foundation is the daily practice of meditation and the local meditation group. People from all walks and stages of life meet weekly in over 100 countries.
Meditatio as the outreach of the Community shares the fruits of meditation with the wider world and directs the wisdom of meditation towards the crises of our time. Its programs engage the areas of education, business, leadership, interfaith, health, addiction, mental health and other social justice issues.
We look forward to welcoming you to The Meditatio Centre and trust that you will find here much that will nourish and support you on your way.
You are invited to join us every week day for meditation from 1.00 – 1.30 pm.  People from all traditions or none are welcome.
You are also invited to come and browse in The Centre Bookshop which specialises in contemplative and spiritual titles.
There is vibrant and growing community at the Centre and if you would like to volunteer to help with a variety of jobs, please contact us.

To subscribe to regular mailings about forthcoming events click here
Visit the Meditatio website here
Visit the WCCM website here